Commercial Jumbo XL Umbrellas
Our Commercial Jumbo XL Umbrellas are patio statement pieces. Spanning up to 24 feet, these large parasols
send a clear signal even from afar that a comfortable, sheltered seat awaits you. Designed to create
free-standing shade wherever you need it, our Commercial Jumbo XL Umbrellas can be safely secured without any
construction or fastening to the ground. This makes them ideal for rooftop terraces, seasonal patios,
backyards, and pop-up usage.
Engineered with robust construction to meet the high demands of the commercial and hospitality
environment. Our Commercial Jumbo XL Umbrellas are ready to withstand winds from 35 km/h to 65 km/h.
The multi-cube base provides a unique alternative to traditional umbrella bases. Rather than becoming
an obstacle, the galvanized steel base and natural wood top provide flexibility to any patio by adding
a tabletop or bar height counter area for guests.
Our Commercial Jumbo XL Umbrella Systems
Commercial Jumbo XL Umbrellas span up to 23 feet
The telescopic system closes over tables and patio furniture
The solid pole and hub are made of high-quality powder coated aluminum
Stable in high winds from 35 to 65 km/h
A mobile base that allows for easy end-of-season storage
No surface fastening or construction required
Shapes & Sizes
Shapes
Max Size
Max Coverage
20 ft
x
20 ft
390 ft2
17 ft
x
23 ft
375 ft2
23 ft
410 ft2
20 ft
170 ft2
Multi-Cube Base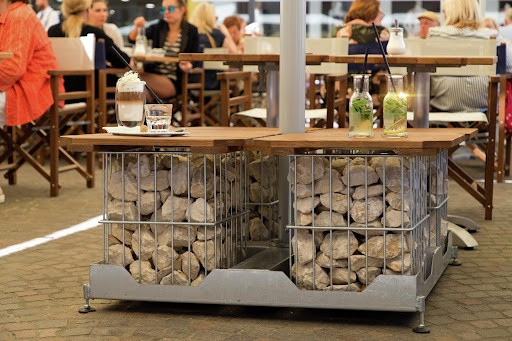 The mobile Multicube creates a comfortable atmosphere for additional guests and ensures flexibility when arranging your outdoor area, all without having to install ground anchors.
The Multicube Base is made up of (4) robust steel cages with wood tabletops and is the ideal replacing conventional parasol bases that use concrete pavers.