When it comes to choosing the best fabric for outdoor furniture, Sunbrella is the preferred choice. Made of 100% acrylic material, Sunbrella is highly durable, attractive and water, mold and fade resistant. But that doesn't mean you'll omit cleaning the fabric. Proper cleaning and maintenance are essential to ensure the fabric keeps performing for several years. Here's how you can keep your Sunbrella outdoor fabric in the best shape.
Sunbrella Outdoor Fabric Cleaning and Maintenance Guide
General Cleaning
Let's start with the general care of
Sunbrella
fabric used on upholstered patio furniture or removable items such as cushion covers and throw covers. Follow these steps.
Brush off the loose dirt on the fabric with a soft bristle brush.
Prepare a solution of soapy water cleanser (mild soap used for handwashing dishes) in lukewarm water, ¼ cup of soap per gallon of water.
Spray the solution on the fabric and use a sponge or soft brush to rub the cleanser in, it will bring the dirt to the surface.
Rinse the fabric thoroughly to remove the soap residue.
Let the fabric air dry completely.
This general cleaning process should be repeated every week to wipe away daily dirt and grime and avoid accumulation of dirt on your patio furniture's fabric.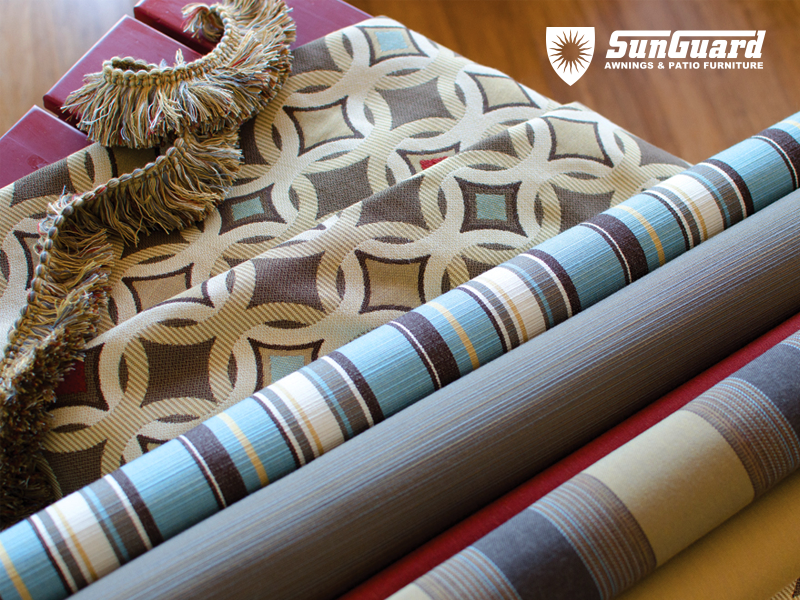 Spot Cleaning
Sometimes, cleaning the spill immediately helps in avoiding tough stains. If you don't want oil, chewing gum or any other damaging substance to mar the beauty of your outdoor furniture, here's how you can spot clean the fabric.
To spot clean oil spill or any other greasing substance like butter, apply an absorbent like corn starch directly on the affected area. Let it sit for at least 10 minutes and use a straight edge or ruler to remove the excess corn starch. This helps in preventing oil from seeping into the fabric.


To spot treat an area damaged by chewing gum, apply isopropyl alcohol. Clean it with a soapy solution of ¼ cup dishwashing liquid per one-gallon water. Then pour clean water over the affected area to rinse the soap out. Pat the stain dry with a soft cloth and let the fabric air dry.
DID YOU KNOW?
Sunbrella fabrics can be used for a variety of indoor and outdoor applications such as hot tub covers, awnings, boat canvas and more.
Getting Rid of Mold or Mildew Growth
Though Sunbrella fabric does not promote mildew growth, dirt on the fabric can grow its mildew. If your Sunbrella fabric requires much more than regular cleaning because of tough mildew growth, here's what you should do.
Prepare a solution of 1 cup bleach and ¼ cup of mild soap with one gallon of water.
Soak the stained area with the cleaning solution for 15 minutes.
Use a sponge or a clean towel to blot set-in stains.
If the Sunbrella fabric is coated, skip the blotting step.
Rinse the fabric thoroughly until all cleaning solution or soap residue is removed.
Air dry the fabric but avoid placing it directly in the sun.
If the fabric has severe mold or mildew growth, increase the bleach quantity and apply the above-mentioned cleaning process.
Cleaning Tough Stains
Some stains are so tough that even after spot treating, they remain on the Sunbrella fabric's surface. But the cleaning process depends on the type of stain. Here's a quick guide for you.
Wine: Clean wine stains by preparing a solution of ¼ cup dishwashing liquid with 1/3 cup white vinegar and 1½ cup isopropyl alcohol or hydrogen peroxide per one-gallon water. Apply the solution on the stain and rub with a sponge. Once the solution spreads evenly on the affected area and saturates the stain, clean it with water and air dry the fabric.


Blood: Dried blood stains are hard to clean, but using a solution of ½ cup ammonia and ¼ cup dishwashing liquid per one-gallon water is definitely going to work. Rinse with water after applying the solution and see the difference.


Ink or Nail Polish: These tough stains need to treated with volatile solvent (acetone 100%) followed by a thorough cleaning with a soapy solution (liquid dishwashing soap and water).


Beer, Urine, Vomit or Food Colouring: These are strong smelling stains that can be treated with a soapy vinegar cleanser. To make the cleanser combine 1/3 cup of white vinegar with ¼ cup of dishwashing soap and 1 gallon of water. Spray the solution over the stained area and rub it with a sponge or soft bristled brush and then rinse it clean with water.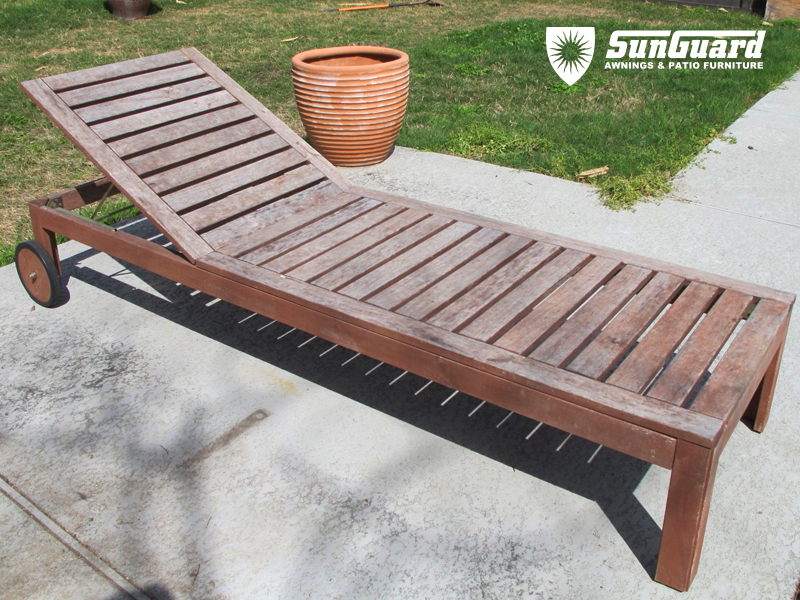 Sunbrella Fabric Care Tips
Make sure you machine wash removable Sunbrella fabric such as cushion covers and patio umbrellas in cold water (less than 100°F/38°C) and do not put it in a dryer as it might ruin the fabric.
Always air dry Sunbrella fabric instead of putting it in direct sunlight.
Use an iron (on the synthetic setting) to remove wrinkles on the fabric.
Do not iron with a steamer or an iron set to steam.
Sunbrella is the most popular fabric for outdoor applications. No doubt they are highly-durable and weather-resistant, but some upkeep is required to keep them stain-free and in good shape for several years. Hopefully, this guide has helped you understand the various cleaning methods of Sunbrella fabric and care tips. Be sure to use them and keep your outdoor furniture fabric clean from dirt and stains.