Maybe it is the spring season or the love for colours that is drawing homeowners towards boho chic outdoor space. The spice this style adds to a patio, backyard or deck is unparalleled. It has an element of fun that enhances the overall appeal and takes an outdoor décor to the next level.
If you're planning to embrace this casual, yet attractive décor style to your outdoor space here's a guide to make things easier for you.
Decorate Your Outdoor Space in Bohemian Style
1. Choose Vibrant Coloured, Vintage Patio Furniture
When incorporating boho chic, the thumb rule is to make the space bold, bright and fun. Since the bohemian look is derived from the hippie vibes of the 60s, it features bright colours and bold patterns. That's why buying vibrant coloured, vintage-looking patio furniture pieces that have a one-of-a-kind appearance will be a perfect choice. If you can't find new furniture, look for pieces that you can paint in a vibrant hue and choose unique printed fabric for upholstery.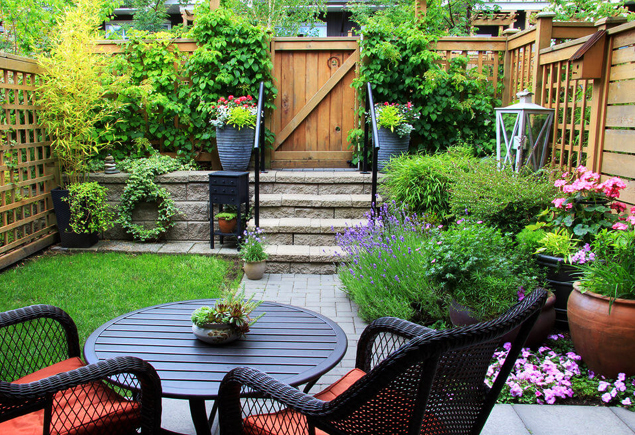 2. Go for a Unique Rug
One of the easiest ways to change the vibe of your patio or backyard is to add an unconventional, printed rug that screams hippie spirit. Go for artsy, ethnic prints featuring loud colours that immediately catch attention. From florals to tie and dye, from batik to ikat, the rug can feature any design which is nature inspired. Place a rug near your patio seating area to give an instant boho facelift to your outdoor space. You can also use it at the backyard entry point to make an impression.
3. Don't Forget Lanterns
Lanterns are an integral part of a bohemian backyard. They illuminate the outdoor space while softening the vibe. But to achieve the boho mood, you have to ditch those modern and sophisticated lanterns found in contemporary homes. Search for old coloured-glass lanterns that give soft and mellow light. They are a perfect way to add a laid-back accent to create a relaxing atmosphere in your backyard. Just make sure they are steady enough to hold on a windy day.
4. Add Lush Greenery
Achieving a bohemian style outdoor space is impossible without adding some potted plants. These lush greens not only refresh your patio or backyard but also offer a great opportunity to add colours. Seasonal blooms in ceramic pots painted in bright colours such as ocean blue and bright orange will fill your outdoor space with vibrant hues for which boho décor style is famous. Place potted plants all around your outdoor furniture area, on the ground, on the steps and on the logs. You can even choose a green wall and hang colourful pots on it to create an interesting look in your outdoors. Simply put, try to incorporate greens and other colours in every way possible to get an ideal boho chic backyard.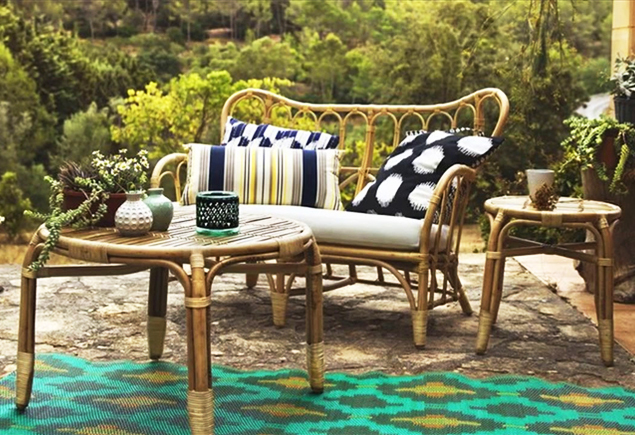 5. Accentuate with Ethnic Blankets
A boho chic space is all about comfort, relaxation and casual appeal. The best way to add an extra sense of coziness to your balcony or patio featuring hippie spirit is to accentuate it with ethnic blankets. Place them casually on your outdoor couch or patio chair, they will keep you warm on chilly nights while making your outdoor space look beautiful.
6. Bring in Oversized, Bright Pillows and Throws
We were talking about comfort and topping that are pillows and throws. Oversized, bight coloured pillows can dramatically change the appearance of your outdoor space while adding that comfort and flair needed for a bohemian style patio décor. You don't need any specific placement plan for throws and pillows. Simply throw them on seating space and a few on the floor to make it look more casual. Just make sure you look for different sizes of pillows to break the monotony.
7. Make a Colourful Tepee
An outdoor décor that celebrates the hippie vibe is full of unconventional additions and decorative accessories. Another unique idea to incorporate a boho-chic style is to build a tepee made of colourful fabric or blanket. A tepee will make your backyard official bohemian with its 'camping in the comfort of your home' feel. Accessorize it with a printed rug, Moroccan pouf, throws and a mini lantern to create a perfect stargazing spot.
The secret to decorating your backyard in bohemian style is to make it more colourful, relaxing, comfortable and casual. The above-mentioned tips will help you in incorporating the hippie spirit in your outdoor space. Start collecting vintage patio furniture pieces, printed rugs and lanterns to accentuate your backyard and see the difference it makes.