There's no better way to take advantage of pleasant weather than to dine al fresco. An open space, greenery, fresh air and delicious food when combined together create an inspiring arrangement which is hard to resist. Spending time outdoors and eating good food can make you feel happy by decreasing anxiety. In order to make the most of eating in nature, you must have a comfortable and functional outdoor dining space. Here's how you can create an ideal space for al fresco dining in your backyard.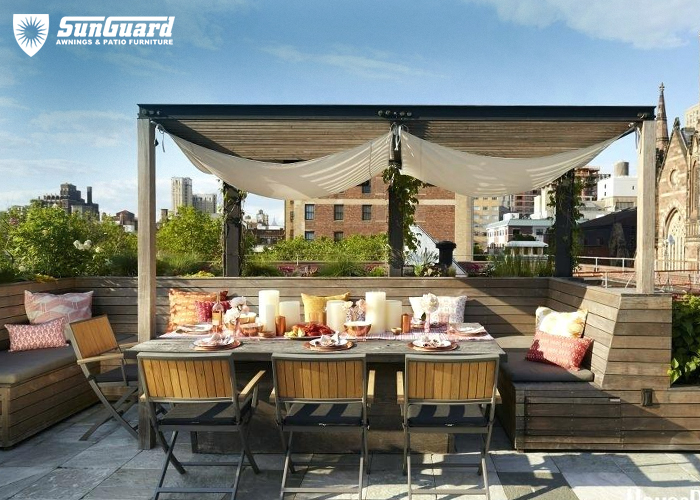 Decide the Type of Area You Want
Before everything, you must decide the type of outdoor entertainment you'll most likely be doing. Will it be a BBQ party for the members of your book club, a Sunday brunch for your extended family or a get-together dinner for your close friends. Determining the purpose of outdoor dining will help you plan your space accordingly.
Choose Practical Outdoor Furniture
Once you have decided the main purpose of your outdoor dining area, you can figure out the right outdoor furniture. If you'll have a lot of guests for an al fresco, then choose a long table with plenty of chairs, even picnic tables and benches will be a good idea. On the other hand, if you're expecting to get only a handful of guests for a Sunday brunch, then a dining set will be sufficient. But, make sure that the garden furniture items are practical and offer enough seating space to accommodate guests, while leaving enough room for people to walk around.
Provide Some Shade
Too much sun can spoil the fun of your out-of-doors lunch or brunch. To cut the glare, provide shade over your outdoor dining space by using a patio umbrella, installing a pergola or a canopy. It will make your al fresco area more comfortable and let diners spend more time sitting and relaxing.
Make It More Entertaining
Music is the best way to make an outdoor dinner party even more entertaining. Invest in a good outdoor speaker which is waterproof and fill your patio space with some melodious numbers. It will be better than sound coming from inside the house. But, make it a point to control the volume so that your neighbours don't get disturbed or complain of the loud music.
Add Soft Furnishing
An outdoor dining space is incomplete without some soft furnishing. A comfortable area rug, smooth table linen and some plush cushions will be perfect to make your al fresco dining area cozier and more attractive. Choose natural materials and finishes, instead of bright colours, as they don't fade easily when placed outdoors.
Install an Outdoor Kitchen
To make it more convenient for the host to transport heavy dishes and serve hot food on the dining table, installing an outdoor kitchen will be the best bet. Go for a little cooking station dedicated to al fresco dining right next to where you will be having dinner. Keep it simple and keep only what's needed to avoid clutter. A mini kitchen garden will be another interesting addition. Keep a few potted plants of herbs such as parsley, rosemary and basil to have a self-sufficient outdoor dining area.
Make It an Extension of Your Indoor Space
Your outdoor dining area should not look as if you're at someone else's place. Make is an extension of your indoor living space by adding some elements of your home décor. A bar table, some comfortable sofas and a cupboard to store utensils and serving plates will be perfect to make your patio or backyard dining area more like a home. Also, install ambient lighting fixtures to make it look as if you're sitting in your indoor dining room. Creating an outdoor dining oasis is not a stressful experience once you figure out what exactly you want. Convenient layout, practical furniture pieces, comfortable furnishing, colourful accents and functional mini kitchen is all that you need to make your outdoor dining area an extension of your indoor living space which is more inspiring, attractive and welcoming.